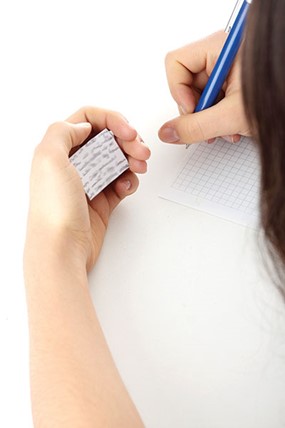 The answers are right there. The girl who sits across the aisle from you in biology, who leans so far over her test as she works on it and who told you before the test that she'd spent most of the last week studying for it, has left the bottom three-quarters of the test visible from your seat. And it's the same part of the test—the multiple-choice section on mitosis—you've been beating yourself up over for more than 10 minutes. From where you are, you won't even need to tilt your head to see it; you can just keep your face pointed at your own test and look over to hers for answers.
You sit up to stretch and glance at the clock (less than 15 minutes left in class—you're almost out of time), then over at your teacher (grading papers at her desk—probably wouldn't notice a thing). This test is big. If you bomb this section, you'll have a hole to dig out of for the rest of the semester. There's no way you can afford to bring home another C in a science class, as your parents freaked about the one last semester. You look down at your test, then furtively over at the girl with all the right answers. Well, should you or shouldn't you?
Could it actually be true that many students think it's OK to cheat in school?
Andrea Savord, as a senior at North Central Area High School in Hermansville, Mich., did not see such cheating as OK.
"If you're taking someone else's answer for a test and claiming it as your own, it's the same as plagiarizing something you come across while writing a paper," she said. The difference between problem cheating and not-problem cheating, Savord said, has more to do with whether or not a student makes it a part of their regular school routine. "If you forget to do your math homework one day and borrow your friend's paper to 'look it over,' I don't think that necessarily constitutes cheating, just as long as it doesn't become a daily habit."
Cheating cheats the cheater
As a junior at New York City's William Cullen Bryant High School, Deji Baizhen agreed with Savord, pointing out that falling into such a habit becomes its own penalty for students who rely on cheating: "A student might cheat on one test, then later a few more, and the number will keep increasing," she said. "In the future, it will be very difficult for the student to let go of this habit of cheating."
Many see significant issues in the Josephson Institute's findings. David Wangaard, of Connecticut's School for Ethical Education, for instance, sees signals that our culture is in for some unpleasant times when the current younger generation becomes tomorrow's community leaders. He has cautioned: "We need to realign our core values. A community needs to value integrity."
The debate about whether or not student cheating is a society-wide morality issue is likely to rage on for quite a while. The more pressing issue right now in the minds of today's students and educators is the damage that can be done when students rely on cheating to get by in school.
Katherine Dare, as a senior at Mount Anthony Union High School in Bennington, Vt., was both aware of and realistic about cheating's more immediate effects on students. Though she admitted to having used essay sites and Sparknotes to help herself along occasionally, she grasped the consequences of cheating in school. She said that students are motivated to cheat simply because their out-of-school lives mean more to them than their in-school lives. "Honestly, most kids just forget about it as soon as we walk out those doors," Dare said.
A lifelong problem?
"The disadvantages to students who chronically cheat is they don't really learn anything," Dare said. "They will carry the need to cheat with them their whole lives and will do so on lovers, work and at life."
Savord agreed. "In the end, people end up cheating themselves. If you cheat your way through high school and don't really learn anything, you're going to have a lot harder time adapting to the change of college or the workforce. It's hard to cheat on the job when you are the only person with your specific assignment, and hard to actually do that assignment if you have no experience working through problems on your own."