When it comes to plagiarism, there are two types students should be aware of when writing school papers: Unintentional and intentional plagiarism. Both are plagiarism and both are problematic, according to Katie Koopmeiners, associate director, Office for Community Standards at the University of Minnesota.  
With unintentional plagiarism, according to Matt Ashare, a reporter at CIO Dive, a writer doesn't know the standards, formats or proper way to cite material that's taken from another place. They're unaware they're actually plagiarizing.
The ethical thing to do is properly research and cite those sources within a paper. Including a variety of cited sources can even impress a teacher or professor, because it shows how much work the student had done, according to Ashare.
Intentional plagiarism is when a student knowingly takes somebody else's words, phrases or ideas and frames them as their own, and then try to get a good grade for it, according to Ashare. It's not all that impressive when a student gets found out, he added.
"When you're reading a student's paper and you get to know the student fairly well, things stand out," Ashare said.
"The pay-off on plagiarism is maybe you get a good grade. But it's not your ideas. You're taking credit for something that isn't yours. I don't know how far that's going to get you in the world."
Painful consequences
The consequences for students caught plagiarizing vary from failing the assignment to failing the class, or even being brought in front of an academic board to undergo a student judiciary process, according to Ashare.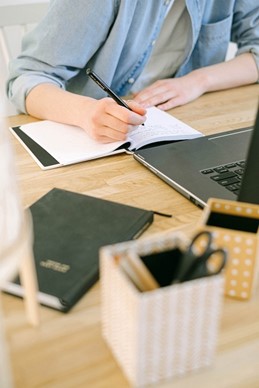 Plagiarism consequences at the University of Minnesota range from a warning to suspension or even, if it's a severe enough case, revoking a degree for a student that's already graduated, according to Koopmeiners.
"It's not fun for instructors to have to find plagiarism or cheating," Koopmeiners said. "So I think an instructor would rather work with a student before it happens rather than deal with it after it happens."
Plagiarism not only affects the student losing out on a learning opportunity but also, more broadly, the university or academic community where the students attends classes is negatively impacted, Koopmeiners said.
Plus, there's one universal consequence for plagiarism.
"In the real world, in all honesty… the penalty for plagiarism is that you're embarrassed," Ashare said. "You're publicly embarrassed. And you are discredited."
Tools to spot plagiarism
In a world with an increasing reliance on technology, plagiarizing is also hard to pull off. Students can check (and therefore, teachers can also check a student's work) to see if there are plagiarism issues on a writing website like Grammarly.com. 
Newer versions of Microsoft Word also have an option to check for plagiarism in the spell-check function. TurnItIn.com is an internet-based plagiarism detection database commonly used as well, including at the University of Minnesota where undergraduate students are required to submit their work through Turn It In. 
A simple Google search with "Free Plagiarism Checker" will net other resources for students. But Koopmeiners cautions against sites like Course Hero or Chegg, websites where people will write papers for students.
So why do students plagiarize? There's a variety of reasons. Sometimes work is left to the last-minute and a student genuinely makes a mistake, or they might copy-and-paste from a source and forget to add in quotation marks.
Koopmeiners and her colleagues hear plenty of reasons for plagiarism, like some students believing that everybody is cheating, so they're at a disadvantage if they don't cheat as well, or instructors don't care if plagiarism happens. Both notions are untrue, Koopmeiners said.                                      
For other students, it's the academic pressure of doing well to get into medical/graduate/law school, but cheating or plagiarizing can actually hurt those chances, Koopmeiners said.
Other students might plagiarize because they simply don't understand the class material and didn't ask for help. Many students, especially international students Koopmeiners has seen at the U of M, are afraid of disappointing their families.
"There might be a lot of pressure at home for a student to do a specific program or take a specific class," Koopmeiners said. "And so they don't want to disappoint their family."
Cite information
Students can keep a few things in mind to avoid plagiarism in their work.
"When in doubt, cite," Ashare said. "That's the first thing. Unless you're absolutely sure that it's just common knowledge, just cite it."
There are also different ways to cite information, with APA, MLA or Chicago styles, so it's important to know which one a specific instructor requires, Koopmeiners said. If students are unsure or have questions during their writing process, they can always ask their instructor or a librarian. 
The Purdue Owl Writing Lab website can also be an aid for citation information.
Ashare recommends using separate word documents for different sources, or even using a color-coding system in the writing process. Ashare also emphasized the importance of citing information that a student paraphrases in a paper. 
Sidebar: 5 Famous cases of plagiarism


Melania Trump: As the First Lady in 2016, her speech at the Republican National Convention contained some wording of Michelle Obama's speech from the 2008 Democratic National Convention.
Joe Biden: The now-president of the United States failed a course in law school after plagiarizing a paper. He also had to withdraw from the 1988 presidential race because of allegations against him regarding plagiarizing in some of his speeches.
Martin Luther King: Parts of his doctoral thesis at Boston University was plagiarized. Portions of it were taken from a previous student's dissertation.
The Beach Boys: Chuck Berry was later added as a co writer of the Beach Boys' song "Surfin USA" because that surfing song was taken from Berry's "Sweet Little Sixteen" song. Berry was also given royalties for "Surfin USA."
Jayson Blair: The New York Times columnist resigned in 2003. He used content from other newspapers and wire services in his work at the Times. He also made up sources, lied and fabricated events in his series about military families that he wrote for the New York Times.
(source: https://examples.yourdictionary.com/what-are-famous-examples-of-plagiarism.html)