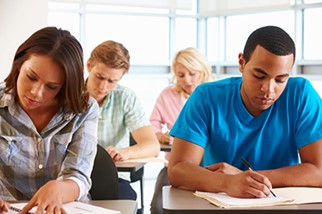 Choices seem to be everywhere—choices about what to do after high school. Where to go? What to major in?
Now add to that yet another choice to be made: How to send your standardized test scores to put your best foot forward?
It used to be that you sat for the SAT or ACT and chose which schools would receive your score (notice the singular). But now, with students taking either or both of the tests multiple times, there are new options for presenting your highest scores to the colleges of your choice, such as SAT Score Choice. You should familiarize yourself with the options and some of the situations in which you might use them.
However, it is important to note that each college has its own score-use practices, and many colleges and universities do not utilize Score Choice or superscoring. These schools generally want you to submit all of your test scores, and they will consider the highest scores received. It is important that you check with your college choices to see what they require.
SAT Score Choice: This is available for the SAT and the SAT Subject Tests and allows students to choose which scores they send to a particular college, by date for the SAT and by individual test for the SAT Subject Tests.
For example, if you take the SAT in January and again in April, and score better overall in April, you can choose to send just the April results. For the subject tests you simply pick the best test result and send that. There is no extra cost for this service.
Superscoring: While many schools long have superscored the SAT, taking the best scores for each section (math, critical reading, and writing) from multiple test sittings, more colleges and universities are starting to do so for the ACT sections ( English, mathematics, reading, and science) as well. You can check with the admissions office to see if the colleges you are interested in use superscoring.
"It makes sense for anyone who suffers through the ACT test more than once to ask whether a college superscores the ACT," Lynn O'Shaughnessy, author of The College Solution: A Guide for Everyone Looking for the Right School at the Right Price, writes on her blog. "Knowing what a school's policy is towards superscoring is important because teenagers might be in a better position to gain admission to some schools or capture fatter financial aid packages or merit awards if their ACT results are superscored."
However, not all the score choices are up to you. Universities and colleges can decide what ACT composite score they will consider; for example, they can choose the "most recent" score, the "single highest" score in one sitting, or the "combined highest" (superscoring) approach.
As for the SAT, when you send scores through My SAT, information about a selected college's score-use practices will be presented and will generally fall into similar categories. For example, schools selecting the "highest section scores across test dates," "single highest test date," or "all SAT scores required for review."
The key is making sure the selected institution has all of the information required, and that it is generally better to err on the side of providing too much information as opposed to too little. By providing multiple test results, students assure that their very best scores are available to be considered, and colleges generally are interested in weighing the highest scores.
"It's to a school's advantage to superscore because then it can report higher SAT scores that will make the institution look more exclusive," according to O'Shaughnessy. "Parents and teenagers often examine SAT and ACT ranges when they are researching more selective schools. Some highly elite schools don't superscore, but they don't have to because the students that they accept have stellar scores across the board."
Video: http://www.brightstorm.com/advice/college-counseling/test-prep/which-tests-do-i-submit-sat-or-act/