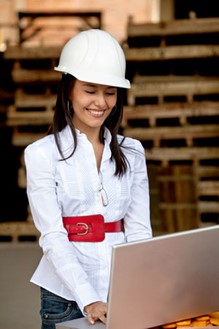 Ever considered a job in construction? Many tech-savvy young people want nothing to do with the backbreaking labor normally associated with construction. It might be surprising to learn, then, that today's construction jobs utilize the latest technology.
Over the last decade, demand for high-tech jobs within the construction industry has increased every year. The residential and commercial buildings built today are far more sophisticated than outside appearances might indicate.
Contractors are putting more and more technology between the walls. From advanced theater systems in homes to complex security systems in malls to high-speed wireless systems in hospitals, buildings are doing more today than ever before. And as the nation moves toward a greener economy, demand is increasing for cleaner and more efficient heating, venting, cooling, and water systems.
Hundreds of technical schools and colleges across the country specialize in preparing students for this high-tech construction industry.
Programs combine classroom and hands-on instruction
Most schools, such as the Pittsburgh Technical Institute (PTI) in Pennsylvania and the Texas State Technical Colleges in Waco, Marshall, and Harlingen, Texas, offer programs lasting one to two years in several different specializations, such as Home Technology Integration and HVAC (Heating, Ventilation, and Air Conditioning) Technology.
Programs are a mix of classroom and hands-on technical courses in a variety of areas, such as electronics, wiring, architecture technology, customer relations, and computers and information technology.
Lee Smith is one of many currently working in the HVAC industry. Smith works for Estes Heating and Air Conditioning, Inc., in Atlanta, Ga., as a service technician. Service technicians make calls to residential and commercial buildings, running diagnostic tests, making repairs, and performing general maintenance on HVAC systems. "My father did this type of work so I followed in his footsteps. I had some experience working with him but I still went to tech school to get a better background," Smith says.
Technicians do not simply replace broken parts and make mechanical repairs to systems. A thorough knowledge of electronics is needed to finish the job.
Energy, environmental controls are big
Joel Heller, a service manager with Estes, says, "We're seeing a lot more electrical components in our systems today. Efficiency and environmental controls are a big part of our business."
And that's what technical colleges are teaching toward. Dave Semich, the Department Chair for the School of Building Technology at PTI, says, "I see the industry moving towards integration. Everything is integrated now. Smartphones and laptop computers control lighting systems, energy systems, and security systems in homes and buildings. Integration is key, and I don't see that changing."
Before these systems can be installed, somebody has to design them. Jeff Muha, 19, has one such job as a control contractor.
Muha went to PTI and now works with the Muninn Group, a building automation systems firm in Pittsburgh. The Muninn Group designs energy and environmental control systems for commercial buildings. They do everything from lighting systems to security systems to indoor air control systems.
Muha has already worked on projects in such diverse places as schools and prisons. "The jobs are never the same," Muha says. "I have to coordinate with different people." His job involves electronics, design, and customer relations, so he needs a wide range of skills. "I like this job because three days of the week I'm at the office and two days I'm at the site," Muha says. "I'm not inside all day like some jobs."
Whether you like working directly with the installation and maintenance of systems or prefer the designing and consumer relations end, the high-tech construction industry could be for you. The jobs are plentiful and evolving to keep up with the changes in technology.
Certification is often required to work in the construction industry. Here is a sampling of those available in the U.S.
Heating, Ventilation and Air Conditioning (HVAC) Certifications
Environmental Protection Agency Certifications (for HVAC)
Electronic Systems Certifications