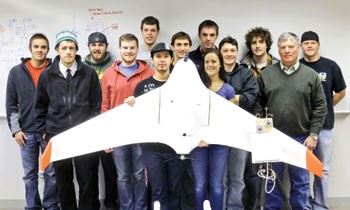 You've probably heard in the news about drone aircraft deployed to war zones, dropping missiles and scouting for intelligence. But drones – more often called unmanned aircraft – can do a lot more, from monitoring birds in the wild to collecting data about tornadoes. Experts think their use will become more prevalent in the future.
"People will be eventually flying around unmanned vehicles," says Benjamin Trapnell, who teaches in the aviation department at the University of North Dakota. "We're basically talking about robotic aircraft."
University of North Dakota offers bachelor's degree
A handful of colleges have started programs for students who want to work in this growing industry. In 2009, the University of North Dakota started America's first bachelor's degree focused on unmanned aircraft.
Students who major in unmanned aircraft systems at North Dakota learn how traditional and remotely operated airplanes work. They can choose from both fields when they graduate, including work as commercial pilots, Trapnell explains.
Mary Wallace, a senior majoring in unmanned aircraft systems operations at the University of North Dakota, says that after she graduates she wants to operate unmanned aircraft, and eventually teach other unmanned aircraft operators. As part of her studies, her classes built an aircraft. She took four different courses, and the students built a different part of the aircraft in each class.
Northland is training technicians
Two years ago, Northland Community and Technical College in Minnesota began a program that teaches students to repair unmanned aircraft. It's the country's only training program specifically for working on unmanned non-military airplanes, says Curtis Zoller, Northland's associate dean of aerospace programs. So far, about 20 students have earned certificates to work as unmanned aerial systems technicians.
Rosalie Olmsted, majoring in aviation maintenance technology at Northland and studying for a certificate to be an unmanned aerial systems maintenance technician, wanted to go into aviation but didn't want to be a commercial pilot.
She and her classmates built a buzz box, an important component of an aircraft's ignition system. "It was really cool to see something that I'm going to use so often," Olmsted said.
Jobs with unmanned aircraft are a good fit for people who like working on computers and enjoy building things. "They have a passion for new technology and are excited about working with something new," Trapnell says.
Many types of jobs
While drones don't have pilots on board, generally teams of five to 15 people operate each aircraft, Zoller says. Roles include planning missions, providing information to the pilot, and fixing mechanical problems.
To start, most graduates from Northland's certification program have been hired to work on research projects for the U.S. military. But unmanned aircraft can be sent into many places that are difficult or dangerous for human pilots.
For example, they can be sent to the sites of chemical spills, fly into hurricanes to gather data, be dispatched to active volcanoes, and even study traffic patterns.
"We haven't even scratched the surface" of what drones can do, Zoller says.