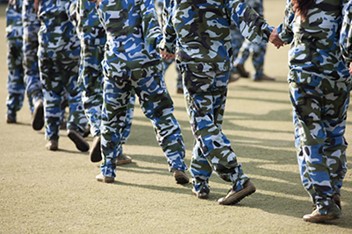 So, you are thinking about joining the military, maybe even have settled on a branch and talked with a recruiter. But there's still one thing giving you pause: BOOT CAMP! With the Hollywood portrayals of merciless drill instructors, infinite pushups and daunting challenges, the basic training recruits go through upon arrival has achieved legendary proportions.
But if you will examine your preconceived notions and do a little digging—and a lot of listening and talking to those who have been there—you'll find plenty of good information that will give you a solid understanding of the boot camp experience. You will also identify ways you can start physically and mentally preparing for the challenge.
"When recruits graduate, the first thing they realize is that it is not as difficult as they imagined prior to their arrival," shared STGCM(SW) Thomas J. Leistikow, a Navy Electronics/Technology Manager. "Their expectations are an environment akin to Full Metal Jacket or other movies and entertainment media, but in reality, they are treated as a person and not a thing. They are not just a widget being processed through an assembly line, but they receive active mentorship and guidance building them into new sailors ready for worldwide opportunities."
Basic training is designed to prepare recruits for all aspects of service: physical, mental and emotional. "It gives service members the basic tools necessary to perform the roles that will be asked of them for the duration of their tour," according to http://todaysmilitary.com/training/boot-camp.


The basic training curriculum of each service branch is tailored to its role in the military. While boot camp is intense, 90 percent of recruits complete their first six months of service. "The purpose of this training isn't to "break" recruits. In fact, the combination of physical training, field exercises and classroom time makes individuals strong and capable," says the website, which houses information about boot camps for all branches.
The basics of basic
Each branch has its own training program, but they share many similarities and range in duration from seven to nine weeks for the Navy to 12 weeks for the Marines. Recruits are instructed to pack lightly and leave family, pets, weapons, tobacco, drugs and playing cards, among other things, at home.
Training begins at orientation, where recruits can expect to receive immunizations, medical and dental exams, uniforms, training gear and haircuts. Paperwork includes submitting enlistment packages and setting up direct-deposit accounts for paychecks.
A look at the Army's basic combat training phases from www.goarmy.com gives an idea of the areas covered:
Red Phase - Recruits begin training and participating in field exercises while learning the importance of teamwork.
White Phase - Through marksmanship training and rappelling exercises recruits learn new skills and develop the confidence it takes to become a soldier.
Blue Phase - Soldiers continue with their weapon training and participate in the night infiltration course, which prepares them for the next stage of training.
Graduation - After completing basic combat training, soldiers embark on advanced individual training (AIT).
Requirements for physical training are posted online and at recruiting stations. The Marines require a timed 3-mile run, a pull-up count and 2 minutes of abdominal crunches. The Army requires a timed 2-mile run, 2 minutes of sit-ups and 2 minutes of push-ups.
"Recruits find initially the multitude of inspections difficult because it requires them to think in a different mindset, one they are not accustomed to. The first order of business is to understand that no detail is too small. However, the physical readiness test (PRT) is the most difficult aspect affecting their ability to successfully complete boot camp," shared the Navy's Leistikow.
"The PRT consists of a 1.5-mile run, curl-ups, and push-ups. Sixty percent of all newly arriving recruits fail their initial PRT. Then they have about six weeks to get ready to pass the final PRT, which is a requirement to graduate."
What do recruits need to succeed?
"In order to graduate, the recruit must possess attention to detail, operate within good order and discipline, and adhere to procedural compliance," advised Leistikow. "From there, believe in themselves and have confidence in their abilities. Their recruiter recruited them because they saw potential for the Navy and themselves to grow."