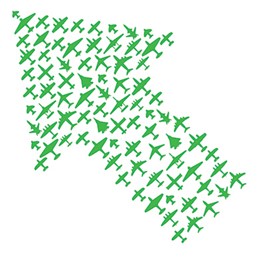 What do Sir George Cayley, Wilbur Wright, Charles Lindbergh, Neil Armstrong and Sir Richard Branson have in common? All have been leaders in the aviation industry. Aviation and aerospace are about more than just airplanes and spaceships. They are about engineering, design, wireless technologies, drones, air traffic controllers, going to outer space, mechanics, building, planning and making history. If you think that a STEM (science, technology, engineering and mathematics) career isn't for you, you may not know about the awesome opportunities that the aviation and aerospace industries offer.
When you work with aircraft, there is no such thing as a small role. From the aircraft assemblers to the air traffic controllers, everything is focused on a central point: successfully completing a mission. Today's aviation and aerospace industries don't just focus on commercial flights, private planes and the International Space Station. There's a big spotlight on research, testing and pushing the limits.
Not just regular transportation anymore
When people hear the words "airplane" and "transportation," they usually think about airports, checking luggage, security screenings and sitting on an aircraft for a few hours. The Federal Aviation Administration (FAA) is shaking things up with its latest transportation sector—Commercial Space Transportation. When the FAA says "space," it means outer space.
Jobs in Commercial Space Transportation are hot new STEM careers that allow you to work on the latest developments for space flight, including space tourism. The FAA seeks STEM-oriented individuals to help design and fly launch vehicles, set safety standards and promote space tourism. Some of the latest programs at universities across the U.S. can help you prepare for such a career and others.
Aviation Science at California Baptist University | Riverside, California
The Department of Aviation Science at California Baptist University offers bachelor of science degrees in aviation flight and aviation management. The training and education prepare students to work as professionals in the air or on the ground in areas such as security, airport management, aviation safety and piloting.
Founding chair Prof. Daniel Prather said flight and aviation management majors learn about topics including the theory of flight, aviation research, meteorology, aviation history and aerodynamic-related principles. Aviation flight students prepare to work as instrument-rated commercial pilots, certified flight instructors or multi-engine-rated commercial pilots. This is one of the few bachelor of science majors that lets you learn how to fly a plane. Aviation management students learn about running fixed-based operations and flight schools, airport management, aviation safety and security.
Prather said the aviation flight major is a flight degree for a person who is passionate about becoming a pilot, has solid math skills and understands physics. Aviation management is a non-flight degree that's great for students who are business-oriented and have strong math skills. With a significant hiring boom in the aviation industry, California Baptist prepares students to fill essential roles.
Commercial space operations at Embry-Riddle Aeronautical University | Daytona Beach, Florida
For those of you who are interested in space flight, working in the space industry or even starting your own space agency business, Embry-Riddle Aeronautical University offers a bachelor of science degree in commercial space operations (CSO) through the department of applied aviation science at its College of Aviation.
"This degree program is the first of its kind, anywhere in the world, and was put together with the help of members of the commercial space industry, and by several officials from NASA and the FAA's Commercial Space Transportation office," said Dr. Lance Erickson, professor of applied aviation sciences.
The CSO program is one of the newest non-engineering fields in the aerospace industry and offers specializations in space policy and operations, as well as operations science and technology. Erickson said the space policy and operations specialization focuses on policy, management and program operations. The operations science and technology specialization emphasizes simulation, programming and astronomical fundamentals. The broad interdisciplinary foundation of the program also gives students some wiggle room to pursue a minor. Throughout the four-year program, students receive hands-on training and can take tours and attend lectures in space-related organizations along Florida's Space Coast.
The CSO program prepares students to have a career in commercial and private space flight operations as a launch and operations controller, flight programmer, business planner, safety and assurance expert, spaceport staff member, trainer, pilot or an outreach coordinator who educates others about commercial space flight opportunities. "Freshman entering this year would be graduating as citizens begin suborbital flight in several new projects. … (The) new transportation mode could cross continents in hours and provide urgent hypersonic transportation for medical emergencies, critical parts and personnel, and for more versatile transport," Erickson said. As the number of commercial space organizations increase, positions within them "will likely be filled with graduates from a program like the commercial space operations degree at Embry-Riddle Aeronautical University," he said.
Get started in the aviation industry in high school
If you're interested in a career in the aviation and aerospace industry, talk to your school counselor about how you can get a foot in the door. Across the U.S., a handful of universities, airports, aviation associations and flight schools offer STEM-related training opportunities for high school students. These programs have activities that introduce you to flight, let you tour the behind-the-scenes areas of an airport, offer flying lessons, give you insight into career opportunities and let you shadow a professional in the field.